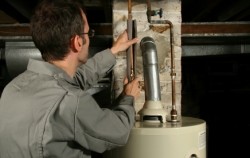 If you enjoy having hot water on demand for your shower, washing machine, and other home appliances, you have your hard-working water heater to thank. Unfortunately, even the most reliable water heaters can occasionally break down, leading you to seek professional water heater repair. Discount Appliances Repair HVAC has been solving residential water heater problems in Arlington since 1995, and we're ready to give you the help you need. Whether you have an issue with a water heater leaking or you need us to replace the heating element or another crucial component, we'll get the job done right. Contact Discount Appliances Repair HVAC today to learn more!
While you might be tempted to attempt DIY water heater repairs, it's best to leave the task to a trained professional. After all, you don't want to cause further damage or put your safety at risk in your efforts to get your unit working again. Discount Appliances Repair HVAC is standing by to assist with common water heater problems including:
Leaks
Insufficient hot water
Temperature fluctuations
Faulty gas pilots
Burned-out heating elements
Broken thermostats
Degraded anode rods
Damaged pressure-release valves
And more
When you have a water heater leaking, making odd noises, or just not providing you with the hot water you need for your household, we're the company to call. Our water heater repair experts are equipped with the knowledge and skill to solve your problems once and for all. We provide both gas and electric water heater repair, and we're familiar with a wide array of brands and models. We'll put our expertise to work to ensure that you get the quality water heater repair service you need and deserve.
Water Heater Installation and Replacement
If you need new water heater installation, either as part of new construction or to replace a non-functioning or outdated unit, you've come to the right place. Discount Appliances Repair HVAC is staffed with expert water heater installers. We can help you select the right water heater for your home, and you can count on us to hook everything up properly for optimal performance. And of course, because we also offer water heater repairs, we've got you covered should you experience any problems down the line.
We stand behind all of our water heater replacement, installation, and repair services with a 90-day warranty that covers both parts and labor. You can breathe easy when you bring our water heater installers and repair technicians out to your home. We've been offering gas and electric water heater repair and installation for 20 years, and in that time we've created many satisfied customers. Become one of those satisfied customers by calling or e-mailing us today!