If your home's appliances aren't pulling their weight, it's time to contact a professional appliance repairman. In and around Arlington, you can count on the pros at Discount Appliances Repair HVAC for expert workmanship and all-around value. Since 1995, we've been helping area residents with appliance repairs, and now it's your turn. Is your refrigerator too warm or your oven too cold? Is your air conditioner or furnace not properly regulating the temperature? Discount Appliances Repair HVAC is standing by to take your call. Contact us today to discuss the appliance repair services you need, and to book your appointment!
Our skilled appliance service experts are available to fix issues with:
Refrigerators
Ovens and stoves
Dishwashers
Washing machines
Dryers
Central air conditioners
Furnaces and heat pumps
Water heaters
Whatever your home appliance repair needs, we'll give you prompt and accurate service. We work on a variety of brands and models, so we're sure to understand your unit's needs and specifications. In addition to offering appliance repairs in residential settings, we're able to fix residential appliances in business settings. You can make Discount Appliances Repair HVAC your trusted source for appliance repair service in Arlington.
90-Day Appliance Repair Warranties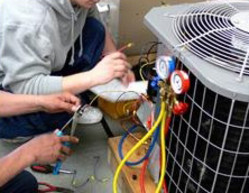 Have you ever hired an appliance repairman, only to have the issue recur after his visit? Discount Appliances Repair HVAC will do our utmost to make sure that doesn't happen. On the off chance that it does, however, you can count on us to stand behind our appliance service. We offer a 90-day warranty that covers both our technicians' labor and the parts we use. We want you to feel completely at ease putting your appliances and HVAC systems in our capable hands.
Discount Appliances Repair HVAC is fully insured for home appliance repair. We're also EPA certified to handle refrigerants, including Freon, if you own an older fridge or AC. Those qualifications, coupled with our more than 20 years of experience in appliance repair services, help us give you some of the best results available in Arlington and the surrounding area.
Contact us today to learn more about what sets us apart among local appliance repair companies! We'll be happy to answer your questions. We look forward to meeting your needs.
We are unable to work on Samsung, Fisher & Paykel, and LG appliances at this time. We apologize for any inconvenience.