Do you have a leaky washing machine? Is your fridge too warm, or your oven not warm enough? Do you need air conditioning service or furnace repairs to ensure that your home is properly temperature-regulated year-round? Turn to the experienced and knowledgeable appliance repair professionals at Discount Appliances Repair HVAC. We're standing by to ensure that your home's appliances and HVAC systems are working their best for you. We take pride in offering top-notch appliance repairs and other services, because we know that your satisfaction depends upon a job well done. Want to learn more about hiring Discount Appliances Repair HVAC? Call now to tell us about the issues you're having, and to schedule your appointment!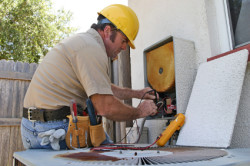 Our array of HVAC and appliance repair services includes:
Refrigerator repair
Washing machine repair
Dryer repair
Oven and stove repair
Freezer repair
Electric and gas furnace repair
Air conditioning repair
Water heater repair
Whatever problems you're having, we have what it takes to make them a thing of the past. We'll always take the time to make an accurate diagnosis before beginning the appliance repair process, and we'll work precisely and efficiently to give you effective results. And we don't just use our expertise for HVAC and appliance repairs! We also offer installations and changeouts. If you need air conditioning installation, furnace replacement, or another install service, trust Discount Appliances Repair HVAC and expect exceptional workmanship.
20+ Years in Appliance Repair Services

The pros at Discount Appliances Repair HVAC have been in the appliance service industry for more than 20 years. We established our business in Arlington in 1995. In our many years on the job, we've learned firsthand how to provide accurate and long-lasting refrigerator repair, oven repair, and much more. Let us put our experience to work in your home.
Insured & EPA Certified for Fridge Repair & More

Discount Appliances Repair HVAC is pleased to be fully insured for all of the services we offer, from washing machine repair to air conditioning installation. We're also certified by the Environmental Protection Agency to handle hazardous refrigerants, which is vital when it comes to fridge repair, freezer repair, and air conditioning repair. You can breathe easy knowing our team will always leave your home and your appliances or HVAC systems better than we found them.
90-Day Warranties on All Appliance Service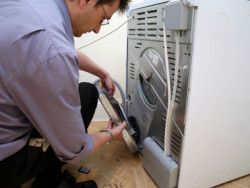 We stand behind our quality workmanship with a 90-day warranty that covers both our technicians' labor and any parts we install. If you experience any issues with your dryer, stove, or water heater within 90 days of our visit, you can be sure we'll come back to figure out what went wrong. It's all part of our plan to be your best and only choice for home appliance repair and HVAC services in Arlington.
Appliance Repairs for Major Brands
Do you need Dacor oven repair or Bosch washing machine repair? Discount Appliances Repair HVAC will take care of it. We offer appliance service for just about every brand on the market. Come to us if your broken appliance is an Amana, Admiral, Bosch, Dacor, Electrolux, Frigidaire, GE, Kenmore, KitchenAid, Maytag, Sub-Zero, Tappan, Whirlpool—or other unit. We understand what sets various manufacturers apart from one another, and we'll tailor our appliance repairs accordingly. 
Call or e-mail Discount Appliances Repair HVAC today to book the services you need! We work on most major brands and models, and we always make great workmanship our top priority. From oven repair to water heater repair and beyond, we're here for you.
Discount Appliances Repair HVAC currently does not service LG, Samsung, and Fisher & Paykel appliances or any brand of microwave or combination microwave/conventional oven. We apologize for the inconvenience this may cause.