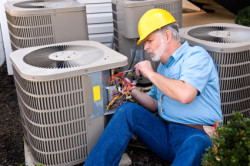 If you're looking for a way to beat the summer heat in Virginia, you'll probably want to invest in central air conditioning. If you have central air in your home in the greater Arlington area, but something isn't working properly, pick up the phone and call Discount Appliances Repair HVAC! For two decades, our team has offered expert air conditioning repair to local residents. We know how to quickly and effectively meet your AC repair needs, so you can get back to enjoying cool and comfortable air indoors. Contact us via phone or e-mail now to tell us about your air conditioner repair needs, and to book your appointment. We'll get the job done right.
Air conditioning systems are complex, and there are a variety of malfunctions that can leave you sweating it out as the temperatures rise. You can count on Discount Appliances Repair HVAC to get to the bottom of the issues you're having, and to provide accurate air conditioning service that will make things right. Common problems requiring professional air conditioning repairs include:
Complete lack of cool air
Ineffective circulation
Continuous cycling
Fluctuating temperatures
Start-up issues
Leaks
Excessive noise
And more!
Whatever specific issues led you to call Discount Appliances Repair HVAC regarding air conditioning repair, you can trust us to bring you results. No problem is too large or too small for our team to tackle. We work with a variety of manufacturers and models, and we take pride in offering quality air conditioning service across the board. Trust our insured and EPA-certified AC repair technicians to give you our all.
Air Conditioning Installation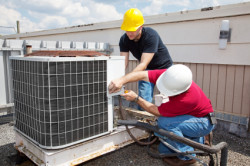 Are you interested in air conditioning installation as part of new construction or renovation? Do you need central air installation to replace your outdated existing system? Discount Appliances Repair HVAC is standing by to help. Our air conditioner repair specialists are also skilled at installing central air, making us one of the most comprehensive AC contractors in the Arlington region. Learn more by calling now!
Thanks to our extensive training and our 20 years of experience in air conditioner service, Discount Appliances Repair HVAC truly does offer some of the highest caliber workmanship in the region. Plus, we stand behind our AC repair and installation work for a full 90 days. We care about satisfying our customers, and we'll work hard to make sure that happens for you. Let us give you the skilled air conditioning repairs or central air installation you need to be able to enjoy everything summer has to offer.