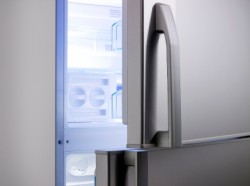 Are you tired of storing items in your freezer, only to discover later that they have started to thaw—or are getting frostbite? For expert freezer repair in Arlington, turn to the experienced and knowledgeable team at Discount Appliances Repair HVAC. For 20 years, our pros have handled all sorts of freezer problems, and we're sure to know how to resolve the issues your unit is having. Plus, because we provide freezer repairs for a variety of brands and models, we'll be able to tailor our services to your model's specific needs. For more about hiring Discount Appliances Repair HVAC for refrigerator/freezer repair, and to schedule your appointment, call us today!
Some of the most common freezer problems include:
Inadequate cooling
Overcooling
Loud or unusual noises
Unpleasant odors
Water leaks
Frequent cycling on and off
Ice-maker problems
Whatever specific issues have led you to contact Discount Appliances Repair HVAC, you can expect us to provide prompt and effective freezer repairs. We put the quality of our workmanship before all other considerations because we know that, ultimately, you want to get your freezer back in action long term. We'll use all of our knowledge and skill to give you refrigerator/freezer repair that lasts. For your added protection and peace of mind, we stand behind our freezer repair service with a 90-day warranty on both parts and labor.
Insured & EPA Certified for Freezer Repair
When you're hiring a company to fix a freezer in your home, you want to make sure the technician who shows up is fully qualified. Discount Appliances Repair HVAC is fully insured for fridge and freezer repair, so you can breathe easy knowing your unit is in excellent hands. We're also certified by the Environmental Protection Agency to handle hazardous refrigerants, including Freon. We'll be able to carry out safe and accurate freezer repair service on your behalf.
If you're ready to schedule your appointment, call Discount Appliances Repair HVAC today! We'll be happy to answer any questions you have about our fridge/freezer repair services in and around Arlington. Then, we'll give you the earliest available time slot on our repair roster. We understand that when it comes to fridge and freezer repairs, time is of the essence. We'll be there when you need us.
Discount Appliances Repair HVAC works on most major appliance brands and models. However, we are unable to service Samsung, LG, and Fisher & Paykel units at this time.